Donald Trump's former communications director Anthony Scaramucci said he believes the US President is going to be "annihilated" in November's election.
The anti-Trump Republican is campaigning against his former boss's re-election, backing the Democratic nominee, Joe Biden.
"He's gonna lose. We're gonna take him down," he said while speaking to RTÉ's US Election 2020 podcast 'States of Mind'.
Mr Scaramucci's time as communications director in the White House was cut infamously short after he was fired following ten days in office.
He maintains he "enjoys" sparring with the president online as Mr Trump recently labelled him a "loser".
"I'm a New Yorker, so I mean he can say whatever he wants. I wear his acrimony as a badge of honour".
.@Scaramucci, who just made a fool of himself as he got taken apart by @SteveHiltonx, only lasted 11 days in his favorite of all time Administration, before being fired for, again, making a fool of himself. Anthony is a loser who begged to come back. I said "No Thanks".

— Donald J. Trump (@realDonaldTrump) August 10, 2020
Mr Scaramucci said his focus is on key swing states which secured Mr Trump his election victory in 2016.
Michigan, Pennsylvania and Wisconsin had gone decades voting for Democrats in presidential elections, and pre-election polling four years ago pegged them for Hillary Clinton.
However during 2016, the three 'blue firewall' states tipped in favour towards Mr Trump.
These states secured him enough electoral college votes to win the election, even though he lost the popular vote.
From mid-September, Mr Scaramucci said he plans to be on the ground campaigning in those states, as he is banking on data which suggests that if 3-5% of Republicans can either not vote or switch to Joe Biden then it is over for Mr Trump.
"I grew up as an Italian-American in a blue-collared family so I can feel like I can identify with those people. We need to explain to them [that] this isn't just a battle of ideas, this is a systemic battle to preserve the American democracy and the institutions of our democracy," he said.
Mr Scaramucci said he wants to do this through a fact-based, anti-gaslighting campaign, highlighting that Mr Trump made the US "weaker, poorer and sicker" as the death toll edges closer to 200,000 from Covid-19.
"We need to continue to pulverise him," he added.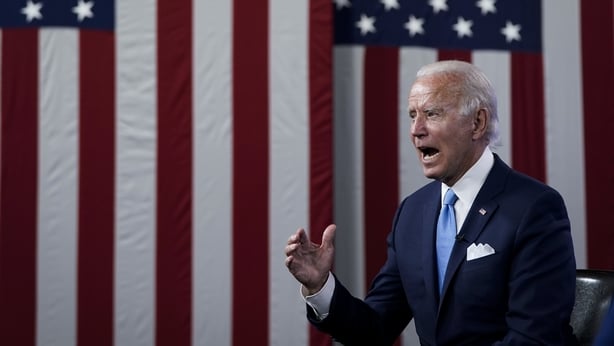 He also believes Mr Trump's rival, Joe Biden, can do better and the former US vice president needs to push his message harder.
"He's had a great strategy up until now just letting the President destroy himself and act like an imbecile, but I think he needs to get out there now and be more proactive," he said.